Quench Your Thirst for Fun & Sun at Our Oasis Pool & Bar
Soak in the sunshine at our swanky marina-side pool with swim up bar, private cabanas and outdoor lounge. Swim, play, or dip your toes into the 185-foot Oasis Pool, and when you're ready to come out, wrap yourself in a plush towel and relax atop a reclined chaise lounge. Private cabanas are available too! Refresh over cocktails and conversations with family and friends or swim right up to the bar and order lunch for the gang. Stay tuned for our upcoming events.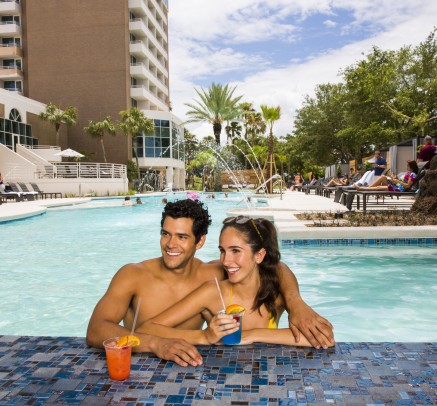 Hours of operation:
12PM- 7PM
Pool Bar to open:
Saturday, March 3rd
Oasis Pool
Amenities:
185-foot long non-heated pool
Swim up Oasis Bar
Private cabanas available for rent
Covered lounge area with outdoor TV
Live DJs from Memorial Day through Labor Day
Large movie projection screen on select dates
Upcoming events

Friday Night Music Concert Series by the Pool
7PM - 9:45PM. Free and open to the public.
5/4 | The Band Hennessey
6/1 | Kelly McGuire
7/6 | Mambo Jazz Kings
8/3 | Dem Roots
9/7 | TBD
See all events
Cabana Rentals
$125 Monday–Thursday | $250 Friday–Sunday
Cabana rental includes: chilled bottle of Champagne, 4 bottles of Fiji water and a private server to greet you upon arrival For cabana reservations please call Adam Folden at (281) 334-1000 ext. 2022 or email at AFolden@sshr.com
or call (281) 334-1000