Welcome to South Shore Harbour Resort
The largest full-service waterside resort and conference center in Southeast Texas, South Shore Harbour sits on shimmering Clear Lake just 30 minutes south of Houston. Stylishly renovated from stem to stern, this 237-room resort hotel exudes the maritime style of Houston's Bay Area in ways large and small. Whether you're sipping cocktails at the Lighthouse Bar & Bistro, savoring the area's premier Sunday Brunch at Paradise Reef or hosting a corporate meeting, wedding celebration or family reunion, South Shore Harbour Resort & Conference Center is a breezy, beautiful backdrop for every occasion.
View Us From Above!
Book Direct Benefits
Complimentary:
WiFi
Breakfast for 2 (Executive Floor Rooms)
Parking
Fitness Center Passes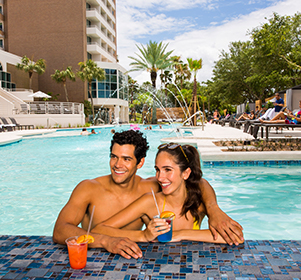 Quench Your Thirst for Fun & Sun at Our Oasis Pool & Bar
Refresh over cocktails and conversations at our 185-foot Oasis Pool & Swim Up Bar!
Learn more
Meetings & Conferences
South Shore Harbour Resort offers 25,000 square feet of flexible, state-of-the-art meeting space overlooking Clear Lake, as well as on-site A/V, catering and banquet services, and a team of experienced meeting planners.
Corporate meetings
Training sessions
Incentive programs
Plan your event
Weddings
Offering captivating waterfront views, South Shore Harbour offers several indoor and outdoor settings for weddings and bridal celebrations. From cocktail parties by the pool to elegant dinners in the Crystal Ballroom, our events are stylish and original.
Weddings
Rehearsal dinners
Engagement parties
Plan your event
Retreats & Reunions
A fun, full-service destination for group events, our lakeside resort offers an array of activities and experiences to keep your group entertained, plus all new guest rooms and a breezy tropical pool deck.
Church retreats
Family and school reunions
School and sports groups
Plan your event
"South Shore Harbour Resort"
Great hotel. Located in a quiet harbour, clean, large rooms and the food was awesome. Free parking, wish i had time for the Houston Harbour party boat that was docked there. Take a walk around the boat dock at sunset. Located in an upscale neighborhood with golf course nearby.
- jimsD3115DG
"Thank you for yet another wonderful dining experience at Paradise Reef!"
Fred and I had a delightful time at the Washington Wine Dinner! We really appreciate the excellent pairings of the wines with the different courses. We have truly enjoyed every dish prepared by Executive Chef Roland Kyburz that we have had the honor to partake of. When we get to the end of the dinners, it is hard to pick out a favorite course because they are all so good. Fred and I are very grateful that we can finally have fine dining here in the Bay Area, so that we don't always have to drive into Houston or down to Galveston to have a refined and delightful evening of food and wine in a restaurant with a nice ambiance. And, your staff is quite professional and courteous also. We want to thank the staff for providing us with such a nice fine dining experience many times now!
- Nancy
"AWESOME HOTEL!!"
This my first time staying here but certainly will not be the last time The staff is super friendly and genuine. The facilities are top notch the pool area rivals those of resorts in the Caribbean that are twice as expensive Rooms were clean, comfortable and with a killer view of the marina I was here with a bunch of friends and all had the same opinion I recommend this place to anyone wanting a great experience
- FFESC
"Wedding Party"
The hotel and all amenities are beautiful and the room was very comfortable with a great view of the harbor. The food was also a plus, both breakfast and dinner. The hotel is in close proximity to Hobby Airport, Baybrook Mall, and the Kemah Boardwalk which is filled with various activities for all ages to enjoy. The staff was very professional, courteous, and friendly, and nicely accommodated the wedding party and all guests.
- dee781
"Had a great time"
This resort has a lot to offer. Big swimming pool with swim up bar, cabanas and a snack bar. Had my 50th High School reunion there. Had a Hospitality suite for everyone to gather and the rooms were very nice.Had a refrigerator and view of the pool. Had dinner at the bar the first night we were there and the food was very good. We got into the room where we were having our dinner/ dance for Saturday night early to decorate and they were extremely helpful. The Managers for both the dinner buffet and the party space (dont remember they names, sorry) were both helpful and kind to us. Thank you, we had a great time. If you need a meeting or gathering place this one is it. Oh, did I mention that its on the boat marina. Great water views from our hospitality room.
- Alan272983
"Lovely hotel with gorgeous view"
We stayed over one night for a wedding and enjoyed our stay. The hotel is located right on the marina with beautiful views of the marina and a lovely pool. The room was clean and spacious and everything worked. Staff were pleasant and helpful, and the location is convenient to shopping and other activities. Would definitely stay here again.
- cathyg160
Specials
What's Nearby
The country's third largest boating destination, Clear Lake offers an array of fun on and near the water. From Space Center tours to shopping to sunset cruising, South Shore Harbour puts you minutes from the areas top attractions.
Thank You